Air Filters
One of the best ways to ensure you have fresh air in the house is by changing the air filter frequently.
The most important thing to remember is that you can't just put any old filter in and expect it to work as well. There are different types and sizes of air filters so you must determine the right size to fit your return air grill as well as which type is the best at enhancing energy efficiency and removing particles with our restricting the air flow needed to the coil.
Several types of air filters are common in HVAC systems:

Fiberglass filter. This throwaway air filter is the most common type. Layered fiberglass fibers are laid over each other to form the filter media and typically are reinforced with a metal grating that supports the fiberglass to prevent failure and collapse.
Polyester and pleated filters. These filters are similar to fiberglass filters but typically have a higher resistance to airflow and a superior dust-stopping ability.
All filters cause some pressure loss as air flows across the filter media. The longer a filter has been in use, the greater the pressure loss because build-up on the filter media reduces airflow pathways. The increase in pressure loss can increase energy demand because it causes the fans that move air through the system to work harder.
One new method is a filter-in-depth (Media Filter), in which a filter with several layers of media screens large particles initially and, as air passes deeper into the filter, removes smaller particles. This method tries to create larger pores in the filter media to improve airflow and decrease pressure drop.
Media Filters
Media Filters are an efficient, low maintenance, and affordable way to filter the air. Air filter media is very commonly used by HVAC. Media filter capacity is very high compared to some of the other filter types available, such as pleated air filters. They are very efficient but lack the holding capacity of the material used in these filters. Pleated air filters become blocked quite rapidly because they are made of a single layer of material where as Media air filters utilize all of the material in the filter. If dust is not stopped by the first part of the filter it will be stopped as it gets deeper into the filter. They are available at some of the hardware stores and online. Air filter media pads come in pre-cut change pads and rolls.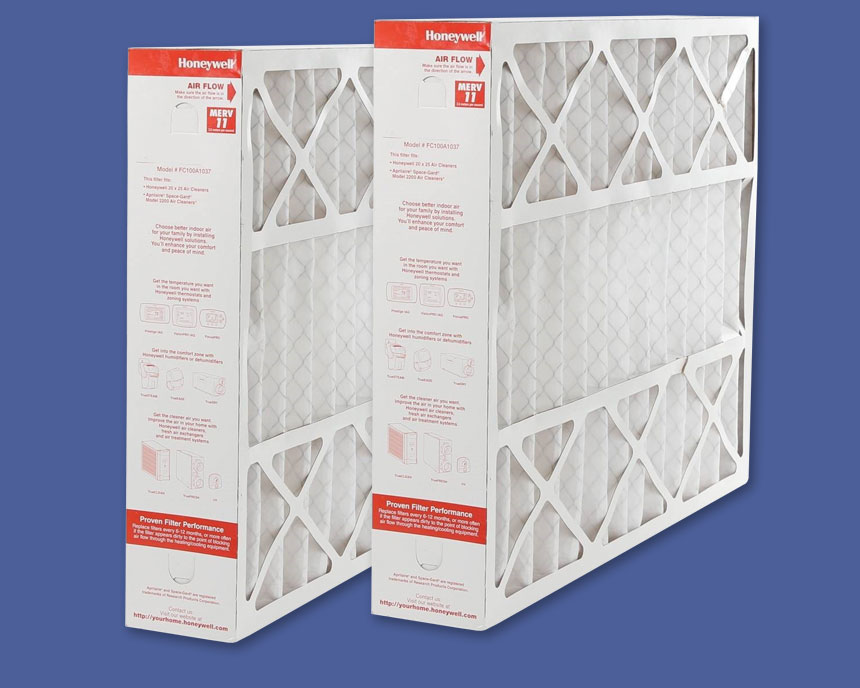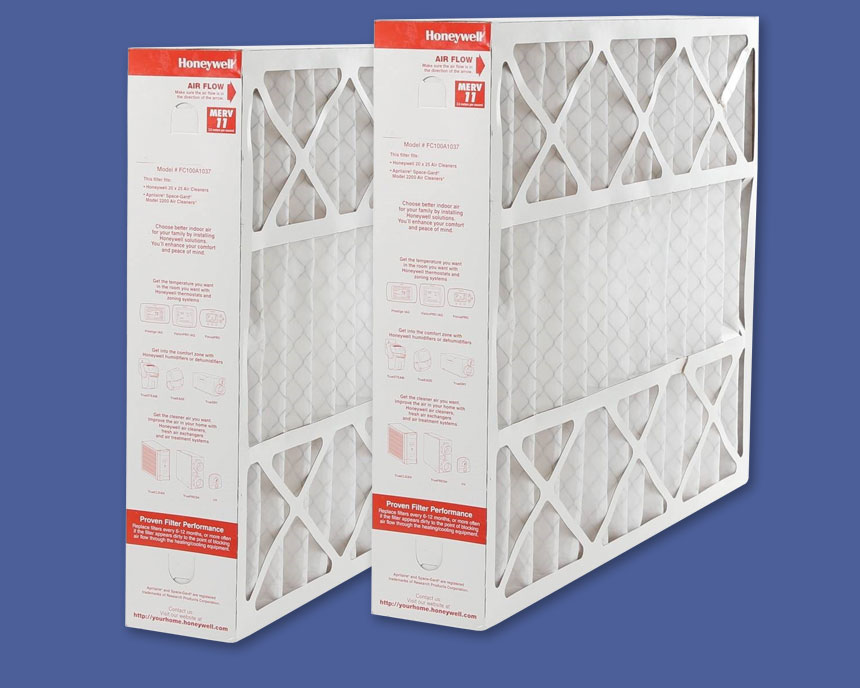 Aprilaire Whole-House Media Air Cleaner
If you want whole-home air cleaning that couldn't be easier, the 4000 series with active control is the clear choice. These high performance air cleaners with user friendly allergen, and irritant control right at your fingertips provides superior cleaning benefits and proven results.
Removes 97% of pollen, airborne dust and other large particles
Permanently traps indoor allergens that can lead to respiratory problems
Visibility and control allows you to monitor and control the air cleaner function through the home from a single, central location
Simple maintenance—just replace the filtering media once per year
What is a Whole-Home Air Cleaner?
There are many types of air cleaners (also referred to as air purifiers or ionizers) on the market today but none are as effective and clean your entire house as well as an Aprilaire Air Cleaning system. Aprilaire Whole-Home Air Cleaners make your air as clean as possible by removing particulates from your air, allowing you to breathe healthier air — important to those with allergies and asthma and for those who want the cleanest air possible for themselves and their family. An Aprilaire Air Cleaner installed by Backslee, can help rid your home of dust, dust mites, pet dander, mold spores, pollen, bacteria and viruses, smoke and more!
How Does It Work?
Aprilaire Whole-House Air Cleaners are installed as part of your home's central heating and cooling system — completely out of your way and out-of-sight. That means each and every time your system runs, the air in your home is filtered through our state-of-the-art filter media removing potentially harmful contaminants from every room of your home.
The resulting clean air is then distributed via your heating and cooling system's ductwork to your entire home. Best yet, the system is easy to maintain with infrequent maintenance only required every 1-2 years unlike portable units that require monthly care or standard filters that need cleaning every 1-3 months.
Turn your central heating and cooling system into a whole-house air cleaner with Aprilaire!
"Poor indoor air quality can cause or contribute to the development of chronic respiratory diseases such as asthma and hypersensitivity pneumonitis. In addition, it can cause headaches, dry eyes, nasal congestion, nausea and fatigue. People who already have respiratory diseases are at greater risk."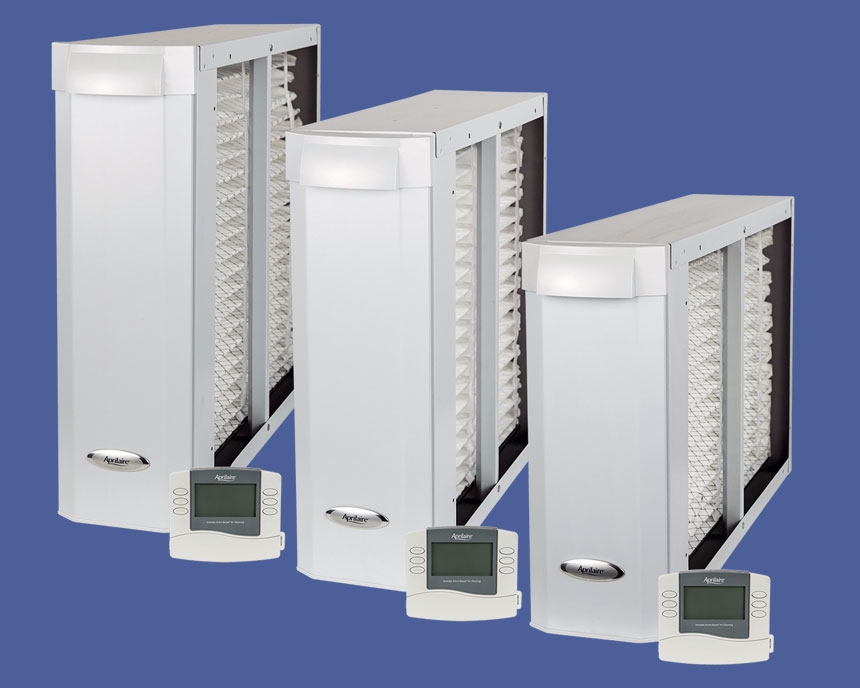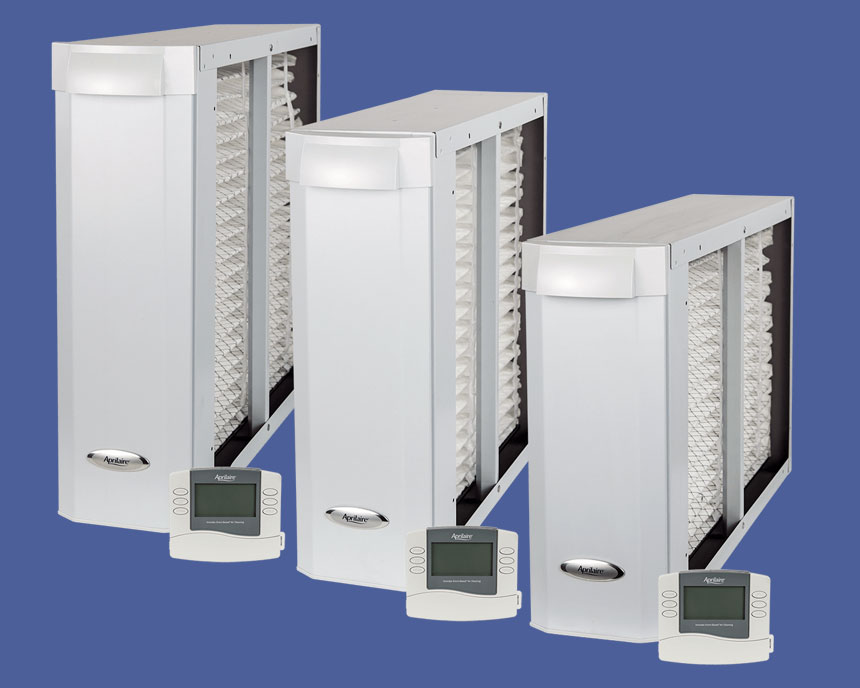 AccuClean Whole House Air Filtration Systems
The AccuClean Whole Home Air Filtration System is the highest quality that you will find anywhere. This is the most recommended unit today and with good reason. You will enjoy up to 99.98 % of allergens being removed from the filtered air. This includes particles that are as small as just .1 micron. This particular air filtration system provides you with better results than any HEPA room appliance out there by 8 times the amount. Plus, it is 100 times more effective than a 1 inch throwaway filter or ionic style cleaners. You will enjoy the most clean air possible as well as a reusable filter that can be washed or vacuumed clean to keep your costs of maintaining this air filtration system easy to do.
Removes up to 99.98% of allergens from filtered air
Catches particles even smaller than .1 micron in size
8 times more effective than the best HEPA room appliance
100 times more effective than a standard 1" throwaway filter or ionic-type room appliance
Delivers cleaner air, and more of it
Reusable filter is easy to vacuum or wash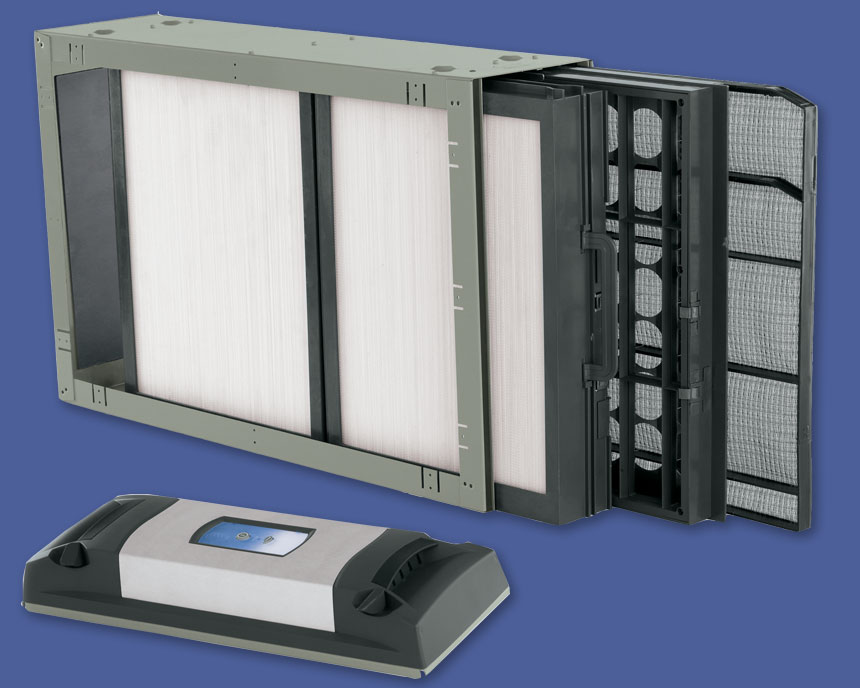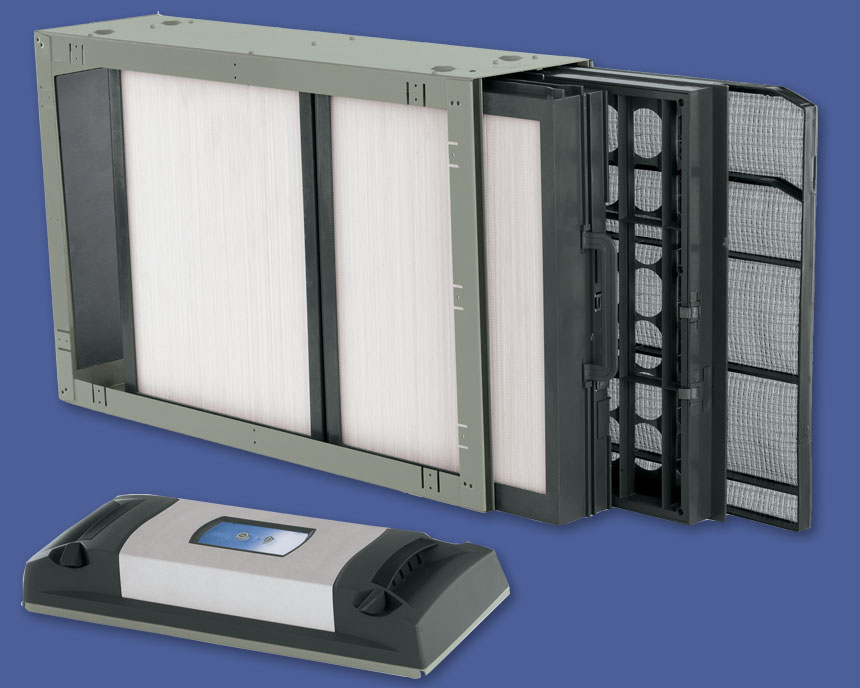 Want us to help? Get in Touch
SYSTEMS WE SELL & SERVICE
We service and repair all makes and models of air conditioning and heating systems for private residential, light commercial, and new construction in the greater Houston, TX area. Listed below are the most common types of air conditioning and heating related equipment and systems for which we have experience and recommend in the right situations.